Welcome



The Little Giger Page is about the art of the Swiss surrealist, H.R. Giger. It is the official supplement to the artist's own website, www.HRGiger.com, and provides information to his fans about the artist's accomplishments, his books, films, and special projects, plus the most comprehensive Database of H.R. Giger's artistic output of nearly 40 years.

Please visit our recently expanded ARTICLES section, an important feature of this supplementary website where we try to maintain a complete and up-to-date archive of all H.R. Giger related newspaper and magazine articles as PDF downloads. Now you can see all the actual pages and the images as they were printed and read the complete articles in their original languages from all over the world.




News:

Added Alien Diaries in Books section

Updated Giger Work Database including now more than 3500 images, sketches, sculptures etc.

Added new database viewer based on java script due to java applet security problems

---
HR Giger Retrospective: Fabrik der Künste
HR GIGER RETROSPECTIVE
in HAMBURG, Germany

January 20, 2012 - March 4, 2012

Fabrik der Künste
20537 Hamburg
Kreuzbrook 10/12
www.fabrikderkuenste.de
---
H.R. Giger mourns the sad loss of his friend and colleague Dan O'Bannon

DAN O'BANNON
30 September, 1946 - 17 December, 2009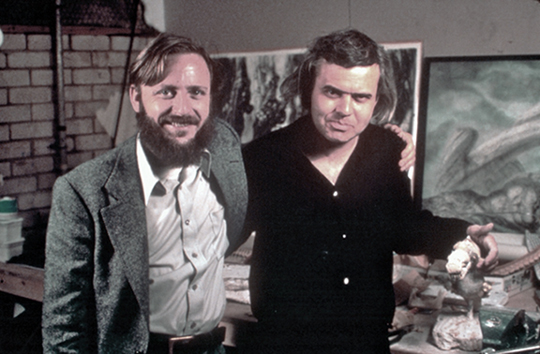 ©1976 Mia Bonzanigo. Courtesy of HRGigermuseum.com

Dan O'Bannon with H.R. Giger on the set of Alien, Shepperton Studios, England, 1976

LINKS:

The Official Dan O'Bannon Facebook Fan Page

Remembering the late, great Dan O'Bannon
By Phelim O'Neill, guardian.co.uk

Dan O'Bannon - The Internet Movie Database

Dan O'Bannon - Wikipedia


---
ProHelvetica International Exposition
SWISS DESIGN IN HOLLYWWOOD
in VALENCIA, Spain

March 4, 2009 - April 28, 2009

Universidad Politécnica de Valencia -
Facultad de Bellas Artes de San Carlos
Camino de Vera, s/n, 46002 Valencia, Valencia

---
H.R. Giger. Kunst - Design - Film
H.R. Giger Exhibit at the Deutsches Filmmuseum, 2009

January 21 - July 26 2009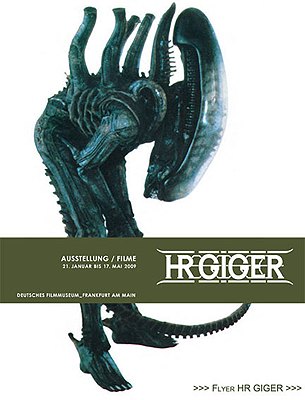 An exhibit featuring H.R. Giger's film design work will be held at the Deutsches Filmmuseum in Frankfurt, Germany from January 21 - July 26, 2009. The installation will feature original painting, sketches, maquettes, props and costumes, archival photos, and more. The films covered will include Alien, Alien 3, Species, and Poltergeist II.
Deutsches Filminstitut - Deutsches Filmmuseum
Schaumainkai 41
60596 Frankfurt am Main, Germany
Tel.: +49 (0)69-961220-302
www.deutschesfilmmuseum.de

---
---
!!! BEYOND BAD - Missing in Prague - ELP paintings... !!!
Message from H.R. Giger:

<<< EBAY BUYERS BEWARE!! >>>

Mr. Giger wishes to forewarn all his collectors and fans that most of the merchandise sold on EBay, claiming to have been made by H.R. Giger or to be reproductions of Giger artworks are fakes, forgeries and cheap imitations.
Such EBay offerings are in violation of Mr. Giger's copyright. If you cannot find the exact same item featured on one of the authorized Giger websites, or listed in the Giger Database, or via a link from one of the Giger websites to a legitimate licensor, art dealer or gallery, you will not be buying an authentic product created by H.R. Giger.



Last Update Jul. 14th 2013

for details see the Update History








If you have additional reliable information or corrections for these pages, please send it to:
olli@littlegiger.com